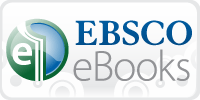 eBooks on EBSCOhost
Formerly known as NetLibrary, this e-resource provides access to hundreds of thousands of books from the world's leading publishers across all major subject areas.

Access over 1,100 academic journals and ERIC database reports in the field of education. Key subject areas include administration, bilingual education, child development and psychology, funding, health education, technology, and testing.
Explore encyclopedias and specialized reference sources on a variety of topics from history, government, environment, math, and more!
Explore this general-interest periodical resource offering nearly more than 15,000 titles with more than 8,800 in full text. With millions of articles available in PDF and HTML full-text, the collection is also supplemented by reference, newspaper, and audio content.
Global Reference on the Environment, Energy, and Natural Resources (GREENR) offers researchers an interdisciplinary resource for environment and sustainability studies. GREENR provides news, background information, video, commentaries, primary source documents and statistics in relevant topic areas such as energy systems, healthcare, food, climate change, population, and economic development.
Discover reliable health information through access to full-text articles of nursing and allied health journals, pamphlets, newsletters, periodicals, newspapers, encyclopedias, and more
Informe Académico proporciona acceso a periódicos y revistas especializadas de lengua española y portuguesa. La base de datos ofrece una amplia gama de contenidos sobre América Latina.
Informe Académico supports Spanish-speaking researchers with a wide range of full-text Spanish- and Portuguese-language scholarly journals and magazines both from and about Latin America. Use the Topic Finder—a visual search tool—to discover new facets of a topic, or use the Readspeaker text-to-speech tool that allows text to be read aloud.
Browse and read full-text newspapers from more than 2,300 major U.S. regional, national, and local newspapers, plus leading titles from around the world, or search articles instantly by title, headline, date, author, newspaper section, or other fields. InfoTrac Newsstand also includes thousands of images, radio and TV broadcasts, and transcripts.
Secondary school students will have access to age-appropriate content from magazines, journals, newspapers, reference books, and engaging multi-media covering a wide range of subjects, from science, history, and literature to political science, sports, and environmental studies.
Elementary students in kindergarten through grade five will find age-appropriate content covering a broad range of educational topics such as animals, arts, geography, health, literature, people, social studies, technology, etc. Kids InfoBits includes full-text proprietary content from Blackbirch Press®, U-X-L, KidHaven Press™, and more! Content is continuously updated and provides interesting and important facts with connections to current and past events.
Discover literature content from more than 150,000 full-text poems, 840,000 poem citations and excerpts, 7,100 full-textshort stories and novels, 3,800 full-text essays published in the 16th-20th centuries, 2,400 full-text speeches, and 1,250 full-text plays. It also includes biographies, work summaries, photographs, and a glossary. Within LitFinder's collection, users can access works from over 80,000 authors from 660 nationalities.
The truth. The whole truth. And nothing but the truth about people, places, nature, history, science, and more! TrueFLIX provides eBooks that are enhanced with a related content in a variety of text types and media–including primary sources, fiction, videos, audio clips, images, and related websites.